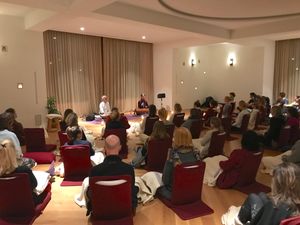 To sit in meditation with Shastro has been a profound experience for me as he is creating a space of deep silence where one can easily experience the inner witness emerging. With forty years of personal practice as his background he is able to create a space where both beginners as well as advanced practitioners can deepen their meditation practice, feeling safe and open hearted. Because of his light and non-judgmental approach I have often seen something really magical happening
to the participants. 
~ Elisabetta Bellucci
manager at Mandali Retreat Center,Italy 
Shastro has proven himself as one of the more versatile performers in the realm of world fusion music - an artist who never fails to surprise and enchant
with every  soundscape he creates.
- Music Design In Review, USA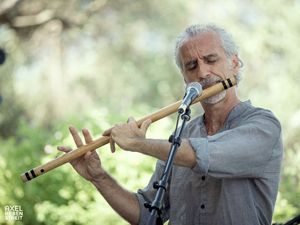 One of the most prominent authors of New Age music  in the USA of the last 20 years, Shastro has so far published under his name more than 15 albums among which:  
Zen Notes - Best Meditation album nominee at the 2000 New Age Voice Awards  
Tantric Heart - Best New Age album nominee at the 2001 AFIM Awards  
Reiki Offering - Winner for Best Reiki Music at the 2001 COVR Awards  
Shamans' Healing - Winner for Best Healing album at the 2003 Visionary Awards  
Shastro lived for several years in India with his spiritual master - Osho - where he had the opportunity to deepen his approach to meditation and to music. Later on he moved to the USA (Hawaii) where he created his music label Malimba Records, that distributes worldwide music for meditation, Yoga, Tantra, Reiki and the Healing Arts.  
Some of the other practices that influenced his formations are the martial art Aikido - that he practiced for 15 years and also taught at the Osho Ashram in India - Kyudo, also known as Zen Archery, Sufi Whirling and Argentine Tango that he taught for several years in his own school on Maui, Hawaii. He considers all of them important forms of meditation in movement that helped him have a taste of what in Taoism is called Wu Wei - action without action, or effortless action.
Recently Shastro is spending more time in Europe and Italy, his native country, where he dedicates himself to the presentation of his music meditations. During this event he offers an introduction talk on meditation followed by musical improvisations on Bansuri - the Indian bamboo flute - alternating with long periods of meditative silence.  
As he explains:  
"In this meditation we will use the sense of hearing as our entry door to the inner silence. When we listen attentively we naturally stop thinking because consciousness, that is now needed for the sensorial perception, is removed from the mental process. In this way, with the help of music, we can enter  naturally and effortlessly into that space of silence and inner calmness."  
Shastro also holds classes for people that are approaching meditation and wants to have a better understanding of it.
"To me Shastro represents
the epitome of New Age Artists.
His music is so gentle, sweet, and filled with light
that to hear it is to smile and take a deep breath,
no matter how tense and nervous you might be." 
                                                         - Steve Ryals, Syndicated music reviewer, USA